Who is BuddyNS?
BuddyNS.com is part of FrontDam GmbH, a small swiss company making systems for uptime of Internet services, and run by a tribe of passionate people who work great together.
Whom serves BuddyNS?
BuddyNS helps organizations from the most diverse industries simplify and secure their DNS infrastructure — from universities, ISPs and hospitals to private individuals.
---
Management

michele@ |



Michele Mazzucchi
Michele is CEO and co-founder. Roadmap, key technologies and security are his realm. He also fatherly steps in on day-to-day tasks nobody else likes to do. Michele is into kite surfing, scuba diving and opera.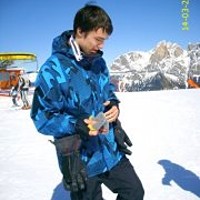 tiziano@ |

Tiziano Signò
Tiziano is co-founder and Product Manager for our web services. He owns Usability and is the driver for many of the cool nifty features that periodically pop up in our website. He enjoys mountain sports and nights in with friends.
---
Our Business principles
Think abundance
The digital world makes fraud and quick-wins easier than ever. We operate honestly and transparently, pursuing win-win. We are theory of abundance believers.
Stay human
We make mistakes and we know others do too. We stay friendly and sympathetic. Toxic customers we happily, systematically dismiss to keep our good vibes.
Serve the big picture
We are tiny and confident of our responsibility to make the world a better place. Each product we craft is conceived to do good in the big picture.
---
Want to work with us?
If you are a friendly, competent generalist, and if you somehow always get things to work, then get in touch — we may be a match!
Tell us about your favorite languages & technologies, what you like to do, and what made you proud; also, ask anything you'd like to know from us.
New

Senior Software Engineer

Empowerment and a large technology playground? Join as our Senior Software Engineer, grow our product and create a new green-field product in the area of privacy. Learn lots, boost your CV, and have fun!

To job ad →