... or add servers?
BuddyNS integrates natively with your cPanel. You get security and speed in your DNS, and you simplify infrastructure.
---
Fully transparent to you and your customers. No extra servers. Free up to 300K qr/mo.
Setup now! →
Your situation
You run a cPanel/WHM server and host a number of customer domains. You typically replicate your DNS with additional DNSONLY servers. Your DNS situation can be improved in reliability, latency, simplicity or price.
How BuddyNS helps
BuddyNS adds security, performance and reliability to your domains. Our plug-in transparently adds domains as you add clients on cPanel, and adds delegation to our global, low-latency, cryptographically-protected DNS cluster.
---
Integrating BuddyNS into your cPanel
Security
Add BuddyNS servers to your zone delegation and get strong encryption running globally and immediately for all your users. No extra configuration or training required on your side.
Continuity
Wipe away DNS downtime: BuddyNS takes over when your cPanel DNS fails, and speeds up resolution when it's up. Our sparse, low-latency DNS backbone runs 100% uptime since inception, and resolves in <70ms to most of Planet Earth.
Simplicity
Get rid of extra servers! They degrade security, waste your time, waste resources and energy and spoil your focus. BuddyNS is secure, resilient, and geographically sparse. Fully transparent integration, while keeping full control on data and configs.
---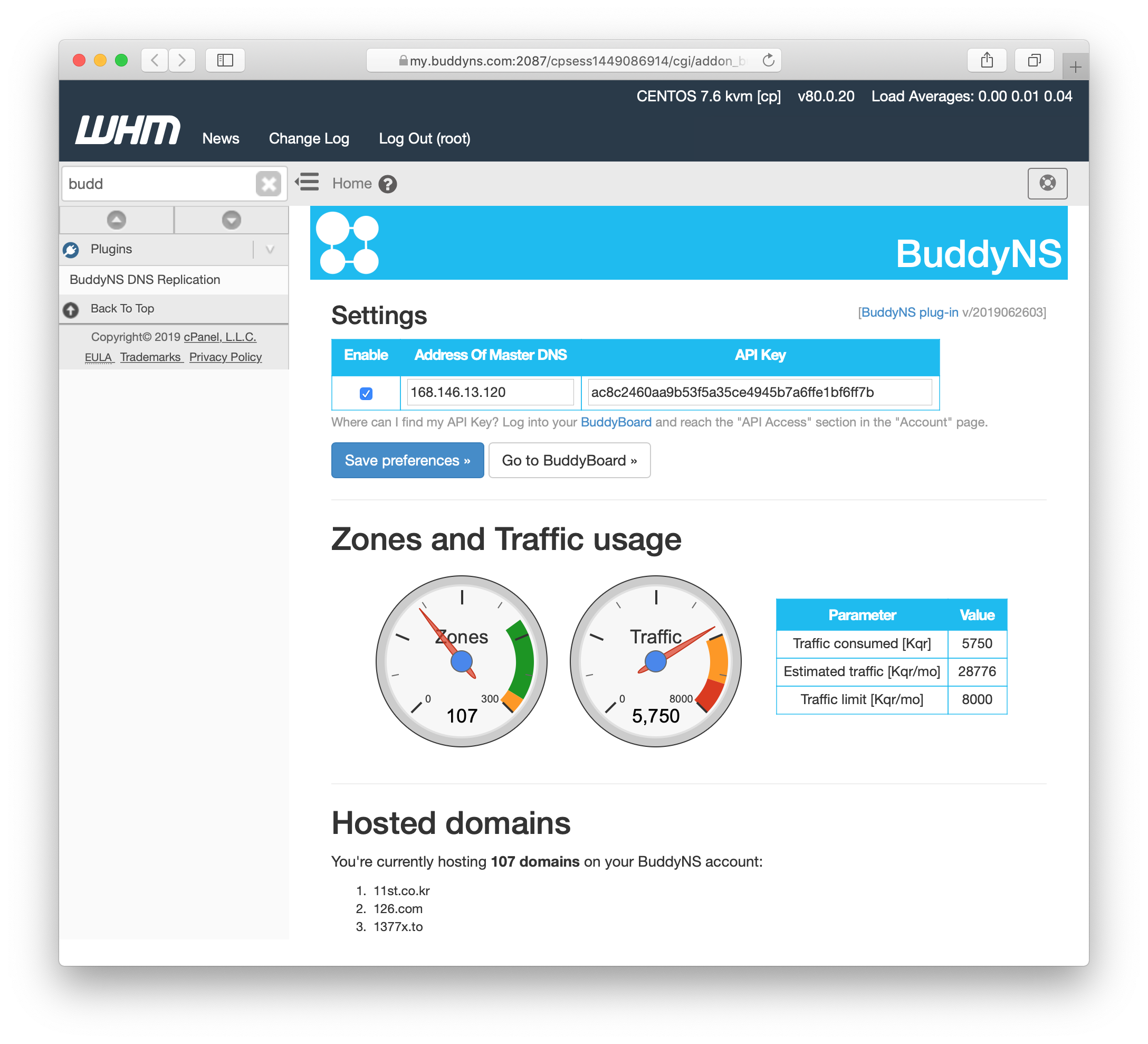 ---
Workflow
Installing as client/reseller is not supported, contact your admin!
You install our integration plugin on your WHM server
When you create/remove an account, cPanel replicates its domain on BuddyNS
When your clients add/remove addon domains, cPanel syncs them at BuddyNS
When a zone (domain data) is changed, BuddyNS replicates it within seconds
Tech details
cPanel hooks add/remove domains onto BuddyNS as they are added
A cron job syncs addon domains when added/removed by users and resellers
BuddyNS initiates zone transfers upon cPanel NOTIFYs a zone was modified
Pure-client implementation: no services added, no security affected.
Takes near-zero resources, operates with our efficient API.
Refer to our cPanel technical integration docs for requirements and tech details.
Pricing
Our integration plug-in itself is free of charge!
Within free use limits, use of infrastructure is free of charge as well. You may switch to a paid account if you exceed those limits or wish any of our advanced services, such as support, fast DNS sync, multi-factor authentication and more.
For support or further enquiries, contact our support address.